Our Canadian Beeswax and Sea Salt Based Skin Care Products:
I had never used a salt bar before, and now I can't go back. These are so different (in a great way) and last forever!
I love the way the lotion bar feels.. and it truly keeps my hands moisturized (even through hand washing). Plus, it smells amazing!
Gentle (yet effective) washing and moisturizing options
Foot Balm
Shop now
Bee and Sea Pairing
Learn More
Rose Quartz Salt Bar
Shop Now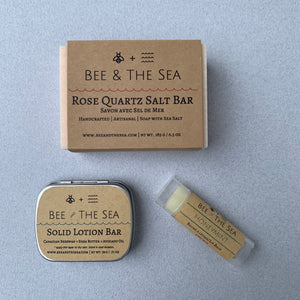 Bee & The Sea Trio
Sale price Price $18.00 Regular price $20.00