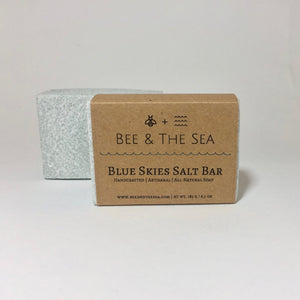 Blue Skies Sea Salt Bar
Sale price Price Regular price
Shhh... salt bars are currently sleeping and will be ready for their new homes on August 5, 2021. Click the link on the side for a little back in stock message! 
Harness the power of the Sea for your skin care needs. Our generously large and long-lasting Sea Salt soaps are gently exfoliating, sulfate-free, vegan, palm-free, and 100% biodegradable. 
Rich and moisturizing, Coconut Oil creates a hard bar of soap with a creamy lather
Sea Salt contains skin-loving minerals such as magnesium, zinc, calcium, and potassium. 
Eucalyptus Essential Oil creates a spa-like bath experience
Minimally packaged to reduce waste.
180-190g / 6-7oz. 
Ingredients: Sea Salt, Coconut Oil, Distilled Water, Sodium Hydroxide, Sunflower Oil,  Castor Oil, Shea Butter, Eucalyptus Essential Oil, Cambrian Blue Clay.