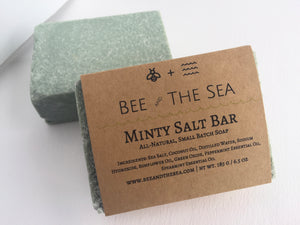 Minty Sea Salt Bar
Sale price Price $10.00 Regular price $0.00
Harness the power of the Sea for your skin care needs. Our generously large and long-lasting Sea Salt soaps are gently exfoliating, sulfate-free, palm-free, and 100% biodegradable. 
Rich and moisturizing, Coconut Oil creates a hard bar of soap with a creamy lather
Sea Salt contains skin-loving minerals such as magnesium, zinc, calcium, and potassium. 
Peppermint and Spearmint Essential Oils are cooling and refreshing.
Minimally packaged to reduce waste.
180-190g / 6-7oz. 
Ingredients: Sea Salt, Coconut Oil, Distilled Water, Sodium Hydroxide, Sunflower Oil, Peppermint Essential Oil, Spearmint Essential Oil, Dark Green Oxide