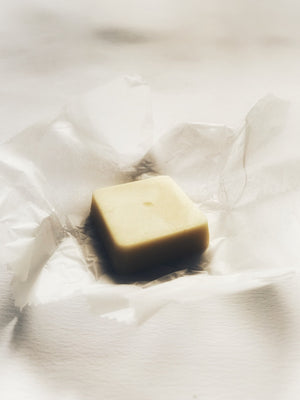 Travel Size Lotion Bar Refill (without a tin)
Sale price Price $4.00 Regular price
Is your travel size lotion bar tin in need a refresh? No need to buy an additional container - we now offer a refill!

As a reminder, our solid Lotion Bars are a whole new experience in skin moisturizing and protection. Made with only three synergistic ingredients, our Lotion Bars are paraben-free, palm-free, vegetarian, and are naturally scented with Canadian Beeswax. Solid Lotion Bars are a much less messy way to create moisture on the go.. perfect for travel, gym bags, purses, pockets, desk drawers, you name it!
Simply apply by rubbing on dry skin the way you might apply soap. The heat from your skin will allow a thin layer to release and absorb. Perfect for creating a moisture barrier from repeated handwashing, or protecting from the elements.  
Avocado Oil: Packed with vitamin E and essential fatty acids, Avocado oil sinks right into dry skin. 


Shea Butter (Emollient): Shea Butter, rich in Vitamins A, E and F, is a natural emollient that nourishes skin by adding moisture while creating a light-weight barrier to keep skin from drying out. 


Beeswax (Barrier): Beeswax both solidifies our Lotion Bar, and creates a water-resistant barrier on your skin. Moisture stays locked within the surface, even under harsh environmental factors (wind, rain, extreme cold) 


Our 20g/.71oz lotion bar is perfect for purses, pockets (it stays solid!), bedside tables, and carry-on bags.