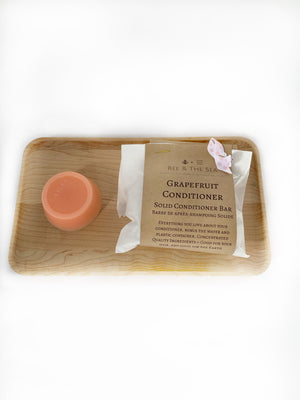 Grapefruit Solid Conditioner Bar
Sale price Price Regular price
These bars pack a powerful moisture boost of moisture in a tiny package. 
Contains all the ingredients you'd expect in a luxury conditioner (plus some!) but without the water and large container. Simply glide the bar over washed hair a few times in the shower, and then distribute for additional coverage. Let it remain in your hair for 1-2 minutes and rinse. It's that simple!
Sulfate-free to protect colored hair
Fresh ruby grapefruit scent is so refreshing 
Can also be used as a post-shower lotion bar on damp skin!
INGREDIENTS: 
behentrimonium methosulfate, cetyl alcohol, coconut oil, jojoba oil, cocoa butter, glycerin, argan oil, panthenol, honeyquat, hydrolyzed oat protein, fragrance oil, mica, phenoxyethanol (preservative)
net weight: 30g/1 oz
Don't let the tiny package fool you - kept away from water streams, this bar can equal 3 bottles of conditioner. Remember - just a few swipes on wet hair will do.