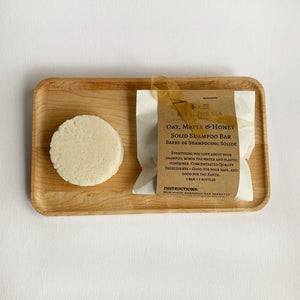 Oat, Maple, & Honey Solid Shampoo Bars
Sale price Price Regular price
All your favorite luxury shampoo ingredients (plus some!) without the water or plastic container... Fantastic for travel or everyday use. Sulfate-free, paraben-free, vegan, and waste-free (compostable packaging). 
Oats and oat protein are incredibly hair-friendly
Sulphate-free = great for colored hair
Coconut oil and Shea butter for extra moisture
Also works beautifully as solid face and body wash
Instructions: Rub solid shampoo bar directly on hair under running water. Rinse and repeat as necessary. May also be used as a solid face and body wash. For best experience keep dry between uses.
Ingredients: Sodium cocoyl isethionate, sodium lauryl sulfoacetate,  cocos nucifera (coconut oil), behentrimonium methosulfate, cetyl alcohol, cocamidopropyl betaine, fragrance, honey, hydrolyzed oats, avena sativa (ground oats), silk peptides, glycerin, phenoxyethanol (preservative)
Size: 64g/2.25 oz 
Cautions - stand on narrow side of bar to let dry between uses. With proper care, can replace 3 bottles of shampoo!